*** JANUARY 14th 2019 MEETING ***
Good Morning Gentlemen,

We wish you all a very happy and prosperous new year.

Please note that Sudbury House Hotel will be unavailable for our next meeting.

Our meeting next Monday January 14th therefore will be held at All Saints Church Faringdon at 10.30am

We are pleased and privileged that our speaker will be Mr Matthew Barber, Deputy Police and Crime Commissioner for Thames Valley
Matthew covers Bucks, Berks and Oxon and was leader of The Vale of White Horse Council from 2011-2018.
He was born in Faringdon, now lives in West Hanney and is a councillor for Steventon and The Hanneys ward.

Regards

Peter Lawson-Smith. Secretary.
Cutting from Probus Magazine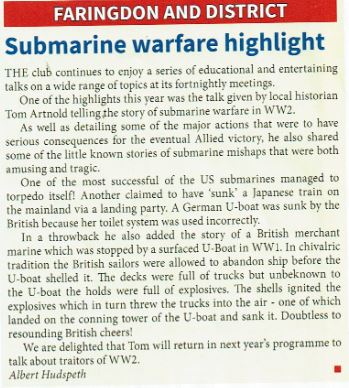 John Bellis 1927-2018 (Aged 91) : A Gentleman and a Gentle Man
John joined Faringdon and District PROBUS club on 2nd October 2006.

The club was represented by Henry Boddington, David Wilcox and Peter Lawson-Smith at John's funeral service at St. Andrew's church Letcombe Regis on 18th October 2018. The service was conducted by Rev. Leonora Hill who provided an elegant and commensurate tribute to a well-loved man. Born in Blackburn John was a chorister and server at Blackburn Cathedral.

He enlisted in the army and was posted to Palestine but a bout of TB meant he had to return to the UK.
He then took a post with Shell Ltd at Heysham before, finally, joining The Science and Engineering Council.

Retirement brought John and his wife Frances finally to Shrivenham and his membership of our club where he quietly contributed to our business and social activities.

We send our deepest condolences to Frances his wife, his sons David and Peter, and John's whole family.
Club Report - Faringdon and District
The Club continues to enjoy a series of educational and entertaining talks on a wide range if topics, at its fortnightly meetings.

One of the highlights of this year's round of talks was given by local Historian Tom Artnold telling the story of submarine warfare in WW2. As well as detailing some of the major actions that were to have serious consequences for the eventual Allied victory, he also shared some of the little known stories of submarine mishaps that were both amusing and tragic.

One of the most sucessful of the US submarines managed to torpedo itself! Another US submarine claimed to have 'sunk' a Japanese train on the mainland via a landing party. A German U-boat was sunk by the British because her toliet system was used incorrectly.

In a throwback he also added the story of a British merchant marine which was stopped by a surfaced U-Boat in WW1. In chivalric tradition the British sailors were allowed to abandon ship before the U-boat shelled it. The decks were full of trucks but unbeknown to the U-boat the holds were full of explosives. The shells ignited the explosives which in turn threw the trucks into the air - one of which landed on the conning tower of th U-boat and sank it. Doubtless to resounding British cheers!

We are delighted that Tom will return in next year's programme to talk about Traitors of WW2.

Albert Hudspeth